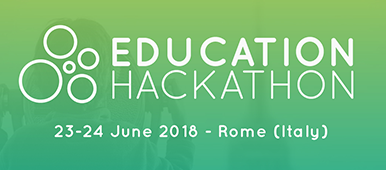 Innolympics Education Hackathon
We strongly believe that Education needs to evolve and this means that what we have today is not enough.
We live in a world where information is easily accessible.
The problem is to select and use this information properly, because the skills you need in life and work are changing rapidly. Each of us therefore needs a personal and professional growth that is integrated, continuous and truly useful.
Regaining confidence in the future is not something that will come from traditional, standardized and static education and training systems. That's why we decided to organize an Education Hackathon in Rome, the 23rd and 24th of June.
These aspects are clear to us and many organizations that are supporting and spreading the voice of the initiative.
Here are the thoughts of some active supporters:
Roger Brufau (Inuit) said "I think it is important to evolve because the typical way doesn't work well enough to prepare these people, to train these people, to understand the future of work".

Filippo Gugliara (Eynomia Happy) said the main value of this Innolympics Education Hackathon "[…] It's the value of the contamination and the creativity of young people, because they work in teams and share their experience, generating ideas and innovation"

INTERNATIONAL HACKATHON
The Education Hackathon is meant for teams of people aged between 18 and 35, from all over the world.
48 hours in which you can compete and cooperate with other teams towards a shared goal: hacking traditional education systems and bringing your unique point of view.
Registration is already open!
Teams are able to subscribe for free until May 31st and the earlier you subscribe, the better. In fact, teams have to face some online challenges to reach a certain score: the faster they overcome all the challenges, the higher their score will be.
We have already several teams from Spain, Germany, Algeria, Morocco, France, the Netherlands, Canada, China, Syria and Italy that are jumping in!
If you are searching for team mates you can find people in the Facebook page event =)
What are you waiting for? Online games will end on May 31st and the 10 teams with the highest scores will take part in the live event in Rome, on 23rd and 24th June 2018.
There you will gain credits to be spent on the realization of your idea during the months following the event.
These 2 days will be an amazing opportunity to meet valuable people and mentors that, like you, believe that we can imagine and then create a different world working together. Are you ready to rock?