Make a dent in the world
The European Organisation Design Forum (EODF) was originally setup to create a space for people across Europe who were interested in organisation design to come together to share, learn, and inspire each other, so that we can release the potential within our own organisations. But over time it has since become so much more, making an even greater dent in the world! Being a highly inclusive community in addition to exploring the power of organisation design to release potential, our community both learns from and significantly contributes to other fields including agility, the future of work, the human revolution, behavioural and neurosciences.
For example Cocoon Projects uses a combination of Lego® Serious Play® and ecosystems thinking to support the evolution of its clients to help them continue adding value to their networks. Fractal Consulting has used Stafford Beer's simulation approach called the Viable System Model and John Boyd's OODA loop, to develop an evidenced based approach to determining how well an organisation is developing its agility. So if you are making a dent in the world and want to meet others doing the same join us out at www.eodf.eu.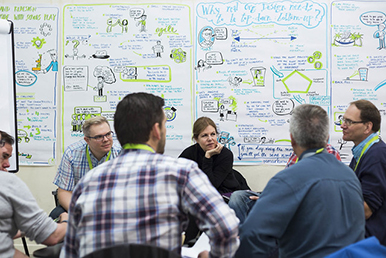 To improve the value and impact of the EODF community, and to help organizations identify organisation designers who have credible experience and expertise, the EODF together with its partners the Organizational Design Community, and the Organization Design Forum have launched a certification program for Organizational Design Professionals.
This certification endorses professionals, whether external consultants or internal specialists, to give organisations assurances that these professionals are credible.
"As an external consultant, regularly winning business is critical to the success of my organisation. I was really pleased when a potential client approached me because I am a Certified Organization Design Professional"
Nick Richmond, Director of Tricordant Ltd
To learn more about this certification check out http://orgdesigncomm.com/Certification-Program or contact the author at mail@thomas-doering.eu.
The next application deadline is set for May 1st, 2019.
This article was first published in our Cocooners N° 6