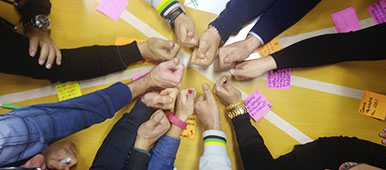 An operating system for real time strategy making.
Some Data
18 Days of work, 7 Facilitators, 110 Participants.
In this issue we'd love to share the story of an international retail giant that asked our help for defining midterm strategy in real time to face a growing set of challenges: from new competition emerging to changing customer expectations. We started this work in early 2016 and we're now halfway through the implementation of a new, powerful, "operating system" for staffs to navigate complexity in their stores. As always we've been surprised by the potential of aligned contributions and strategy co-creation and sharing.
Facing Complexity
Since the beginning of this project we had to face a truly diverse group: despite operating in different spots of the country with rather specific challenges, the managing staffs of different stores shared a common set of challenges mostly due to the changing environment that is challenging all retail businesses. If on one hand the teams had to face more dynamic customers' expectations and build more meaningful offerings, on the other hand the whole group shared a complex and unoptimized day-to-day process that was always harming the capacity to adapt, and react thoughtfully.
A shared understanding
We started from gathering a significant sample of the whole human system in our headquarter for an intense two days workshop that allowed us and the group to elaborate a shared understanding of where they were at the moment, as a regional group, and what they wanted to evolve towards, including the challenges they were living through. This shared vision was needed in order to identify what the subsystem we were working with was really able to drive and change (beyond alibis), inside a larger organization with its own constraints and a layered set of strategic plans.
Listen & Imagine
With this shared vision in mind we've then been able to move into working with store-level teams, by implementing an easy to visualize real-time strategy framework that should have helped them making change happen throughout the day-to-day madness. We focused first on the actionable tools and approaches that could help them understand how to listen to customers' voices to shape the future of their stores and of the many ancillary services they could offer to modern customers.
Evaluate & Model
As a complement we later explored the strategic tools that – always by means of dynamic group co-creation – are precious to help a team evaluate its own strategic advantages and assets and how to leverage them in a process of reinventing the product, service and brand experience in the store. We focused on looking at how these transformations could be sustainable, based on credible business models and integrated with existing offerings.
Prepare to execute
After almost one year of work we now approach our Iteration 3: a moment that will prepare the teams in terms of actionable practices of work, aimed at helping them navigating the complexity of executing new strategy on top of a continued core business that asks to deal with the everyday details. New tools to work as a team, remove bottlenecks and fluidify the daily work routine will be essential to make this full circle evolution in the stores.
FINAL THOUGHTS
Way too often organization lose their will to create something new for them and their customers as they fall in the deep holes of the day to day routine: so innovation gets lost in fears of failures, unclear objectives and "we don't have time for this" or "this is not going to work" statements. It takes curiosity and openness to be surprised to truly play the game of innovation: as Beth Comstock recently said, quoting Juan Gris "You're lost the instant you know what the result will be".
This article was first published in our Cocooners N° 2