Cocoon a SMAU.

Non potevamo mancare!
Dopo una dura preparazione, siamo pronti per sbarcare a SMAU con 5 startup: Around Family, The Worlder, Weiggie e Bid my travel, i progetti selezionati che partecipano, oltre alla nostra nuovissima piattaforma All4.it – the Startups' Lair!
Around Family è dedicata alle famiglie con bambini, The Worlder alle esperienze di viaggio e di vita, Weiggie alle scelte, Bid my travel alle proposte di viaggio "customer driven", All4.it alle start-up e ai professionisti che amano le nuove sfide.
SMAU, che si tiene dal 17 al 19 ottobre, è per noi un'importante occasione di business, di contaminazione e stimolo, di nascita di partnership e relazioni.
Il nostro obiettivo principale è incontrare gente in gamba, interessata a fare innovazione reale, non solo teoria.
Per avere il nostro invito di ingresso gratuito e venirci a trovare, cliccate sul banner qui di seguito: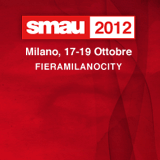 Tra gli appuntamenti più importanti lo Speed Dating dell'Innovazione, giovedì pomeriggio alle 14.00, in collaborazione con StartupBusiness di Emil Abirascid.
Open Collaboration e Lean Thinking saranno il nostro mantra, anche in questo evento.
Seguiteci in diretta e dite la vostra su Twitter o Google+.




Ci vediamo a SMAU!