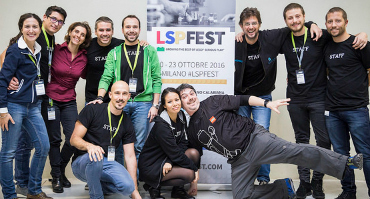 Highlights of the first #LSPfest.
The first LSP Fest in the world is over, but we are sure it has generated good vibes in all the people who have taken part to this amazing event! Three terrific days where all the attendees have shaped ideas, thoughts, perspectives, feelings and much more.
The LSP Fest has been the right opportunity to truly understand the power of a colored brick and a good facilitator.
Here goes what happened in those amazing days.
On Friday October 21st we worked with bloggers and journalists, organizations and experts of different fields. Using the LEGO® SERIOUS PLAY® method, they built thoughts and feelings about their future in 3 dimensions, imagining perspectives and possible developments.
On Saturday and Sunday we opened the door to an audience of professionals and curious people: 14 workshops in 3 parallel tracks and 12 facilitators played with over 100 attendees. Everyone could join the workshops choosing between different topics: lean thinking, user research, negotiation, team evolution, personal growth and more
The aim of the LSP Fest was to promote the methodology, share valuable experiences, learn principles useful to deal with complexity and – last but not least – to support the Mediterranean community in its growth process. We've reached all those aims focusing on the quality of the methodology and of the facilitators.

To live the LSP Fest in 3 minutes, watch the video:

To feel the atmosphere of the event, browse the photo gallery:
Thanks to all the people that made this huge energy wave happen with us. And thanks to who's given us voice, as for example Corriere della Sera, or Repubblica.
Keep in touch with us to receive updates about upcoming events, subscribe here!
---
Thanks for sponsorship to: